Importing Ready-made Email Templates for Testing
A new Email2Go feature that makes email testing easier.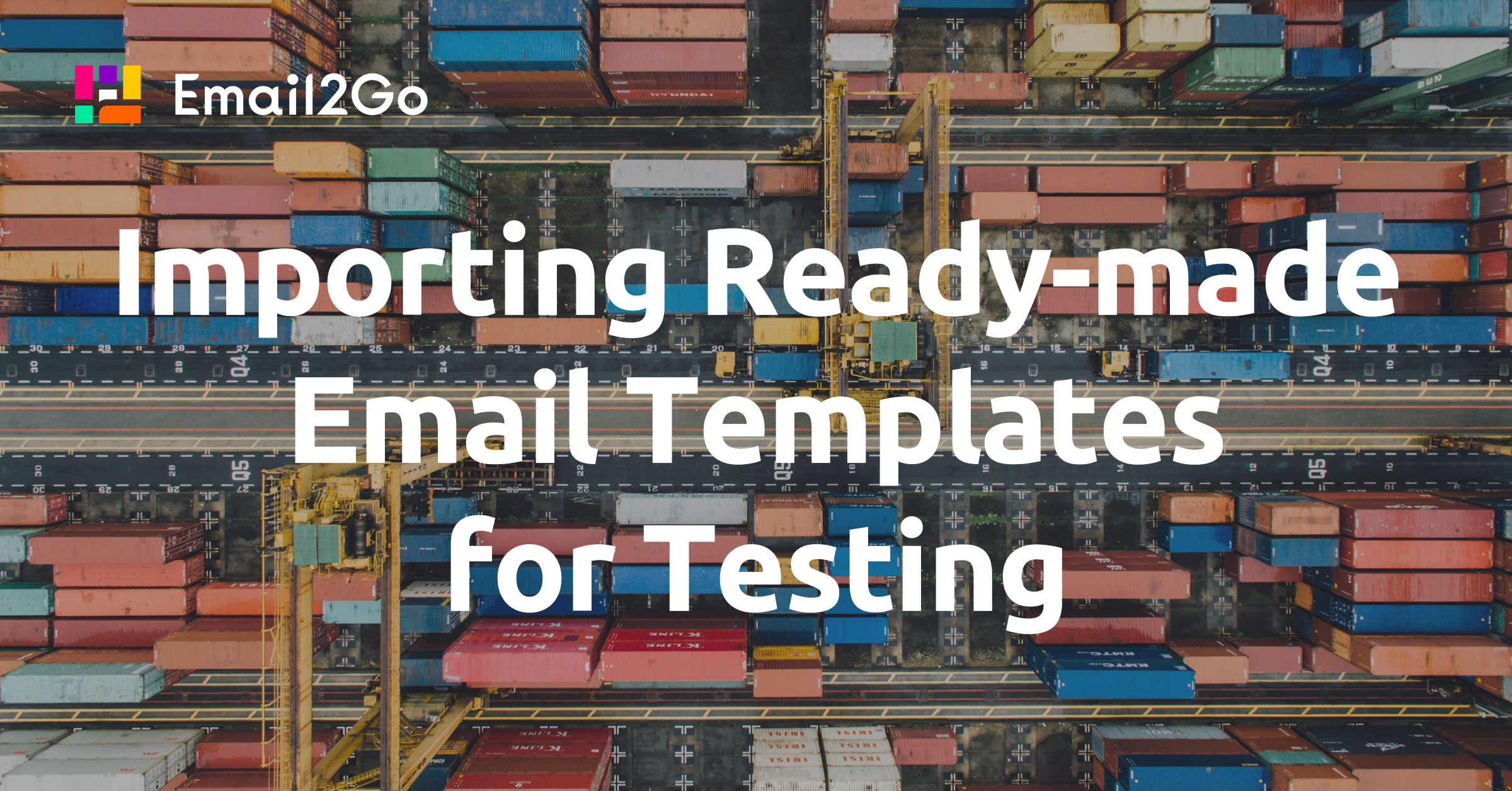 Testing templates created for email newsletters has always been, is, and will be something that is mandatory for any marketing campaign. However, up until recently, this was a feature that was only available to email designers or people with knowledge of HTML email coding. Not all email marketers have this knowledge. But it is the marketers who are responsible for the implementation of the entire project—from the idea to the final version of the mailing list.
We, at Email2Go, decided to make our email template testing service as accessible, convenient and functional as possible—even for people who do not have deep knowledge of HTML but want to control the process of creating emails at all stages.
Get acquainted with this new feature: importing ready-made emails. Now, to work in our system, you do not need to create a template in the code editor. From now on, Email2Go allows you to test ready-made email templates by importing them into the testing system. Just click the 'Import' button and choose one of the three options for importing the finished email.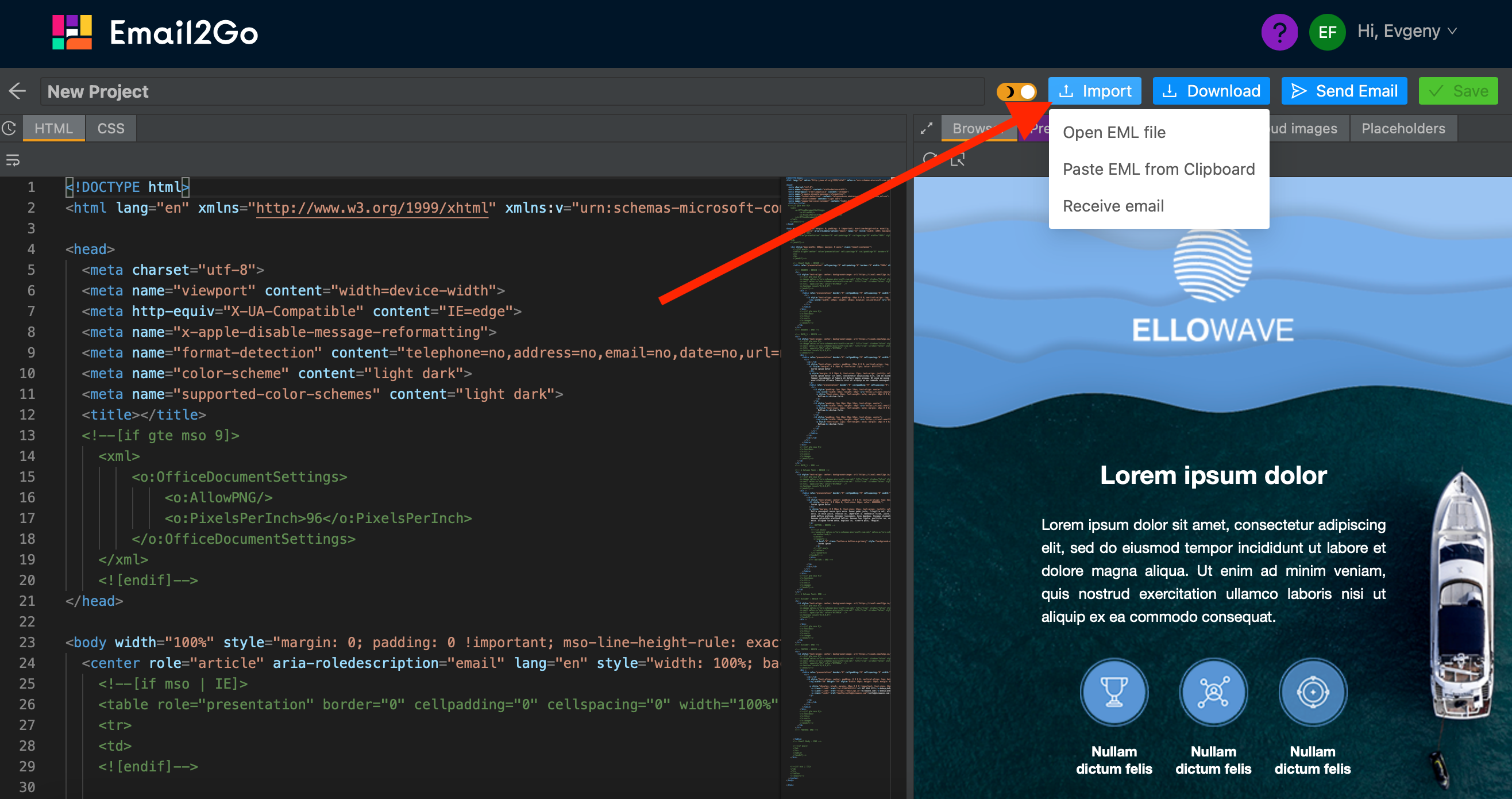 Email2Go Email Testing Import
Import EML File for Email Testing
The EML file extension represents email messages saved by the mail client. Files can be saved with an attachment to the mail or with another file type included in the message. EML files allow you to save email messages for storage or for forwarding in the future.
EML files are a type of data file that contains text, images, captions, hyperlinks, HTML, and other components commonly used when creating an email message.
To import an email for testing into the system via an EML file, just create a new project in Email2Go, and then click Import→Open EML file: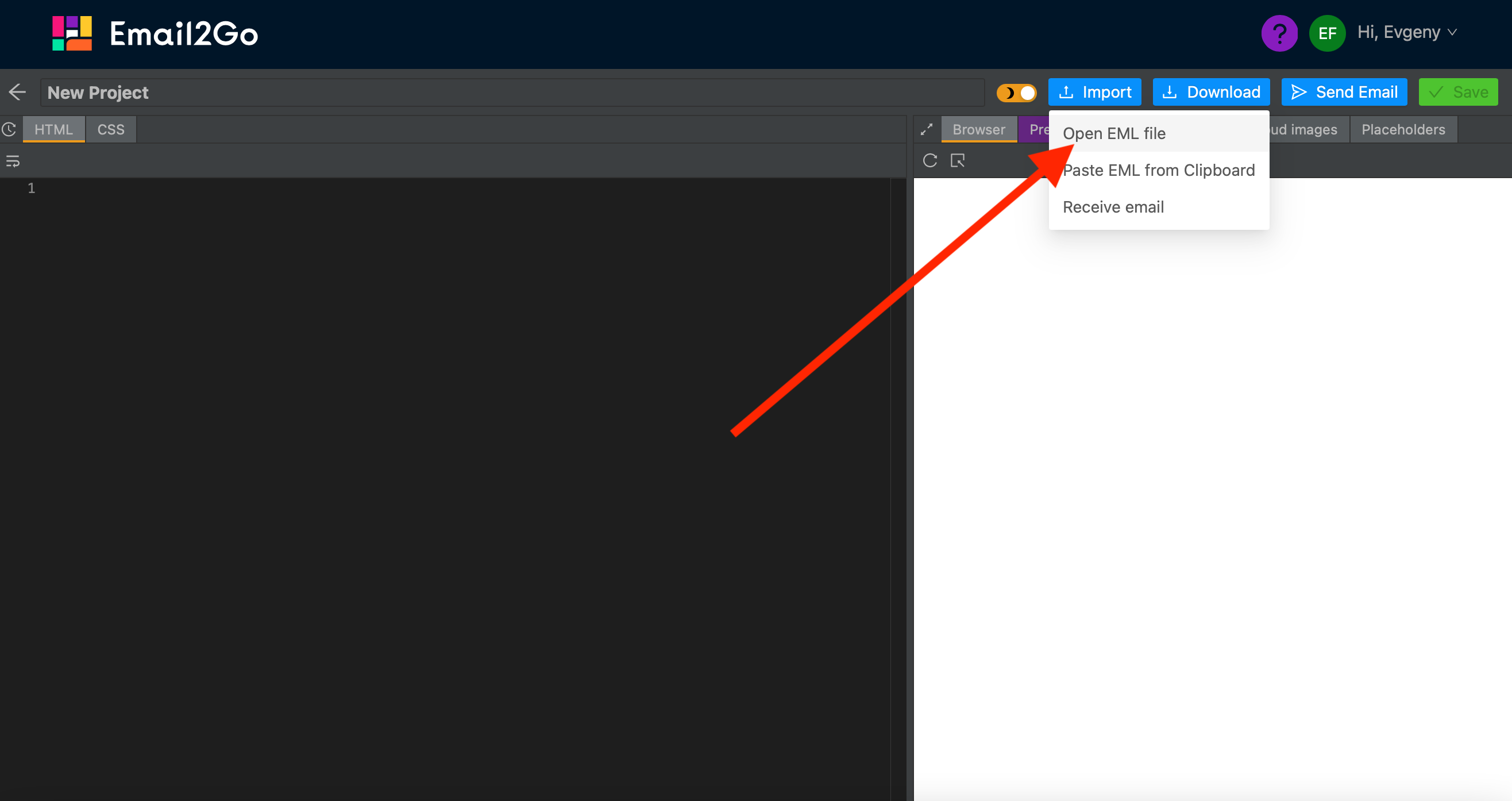 Click Import→Open EML File in Email2Go
Then select on your computer the EML file of the email you want to test: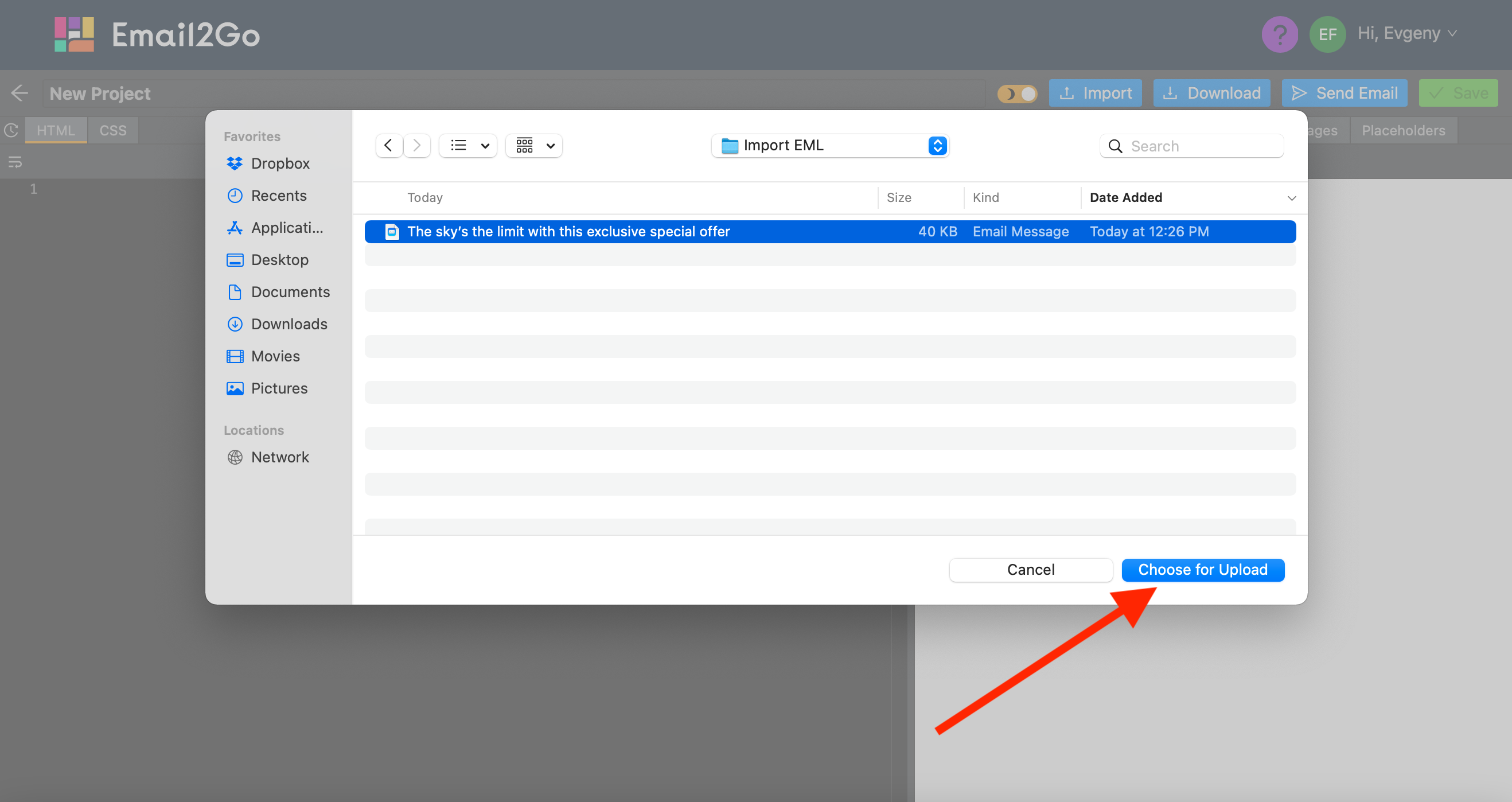 Import EML to Email2Go
This email will be automatically uploaded to Email2Go and you will only need to click the Preview tab in order to get renderings of this email on all possible devices and email applications.
Imported Email Using EML File in Email2Go Preview System
I will tell you about how and where to get EML files in the next article of the Email2Go blog.
Import EML from Clipboard for Email Testing
The second option to import and test the finished email in Email2Go is to import an EML from the clipboard. Some email programs allow you to get EML without saving the EML file on your computer. It will be displayed in a separate window, and, in order to import it into Email2Go, you just need to copy the content and then paste it into our system.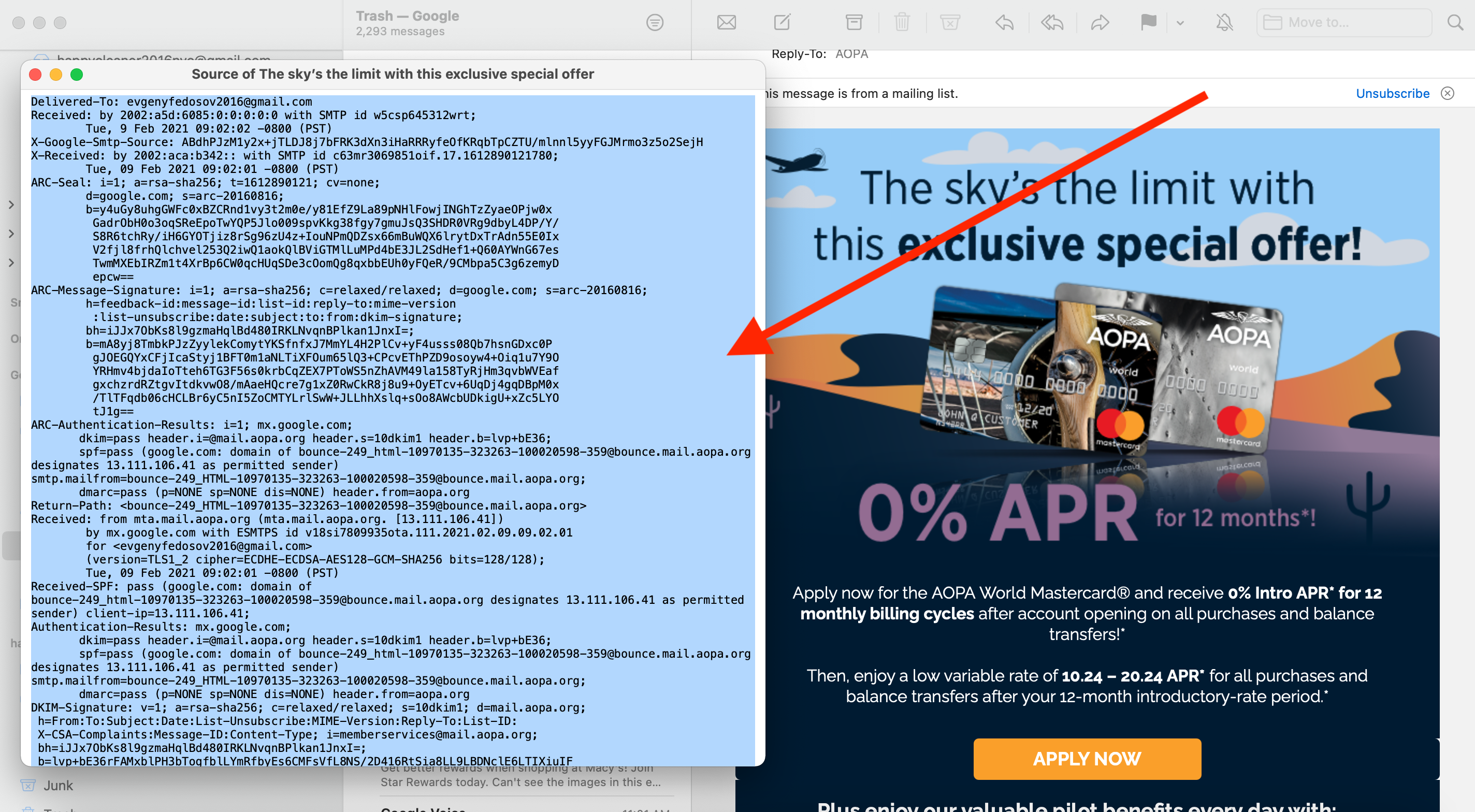 EML without Saving EML File in Apple Mail
In this procedure, as with the Import EML file, there is nothing complicated.
To do this, just create a new project in Email2Go. Then click on Import→Paste EML from Clipboard: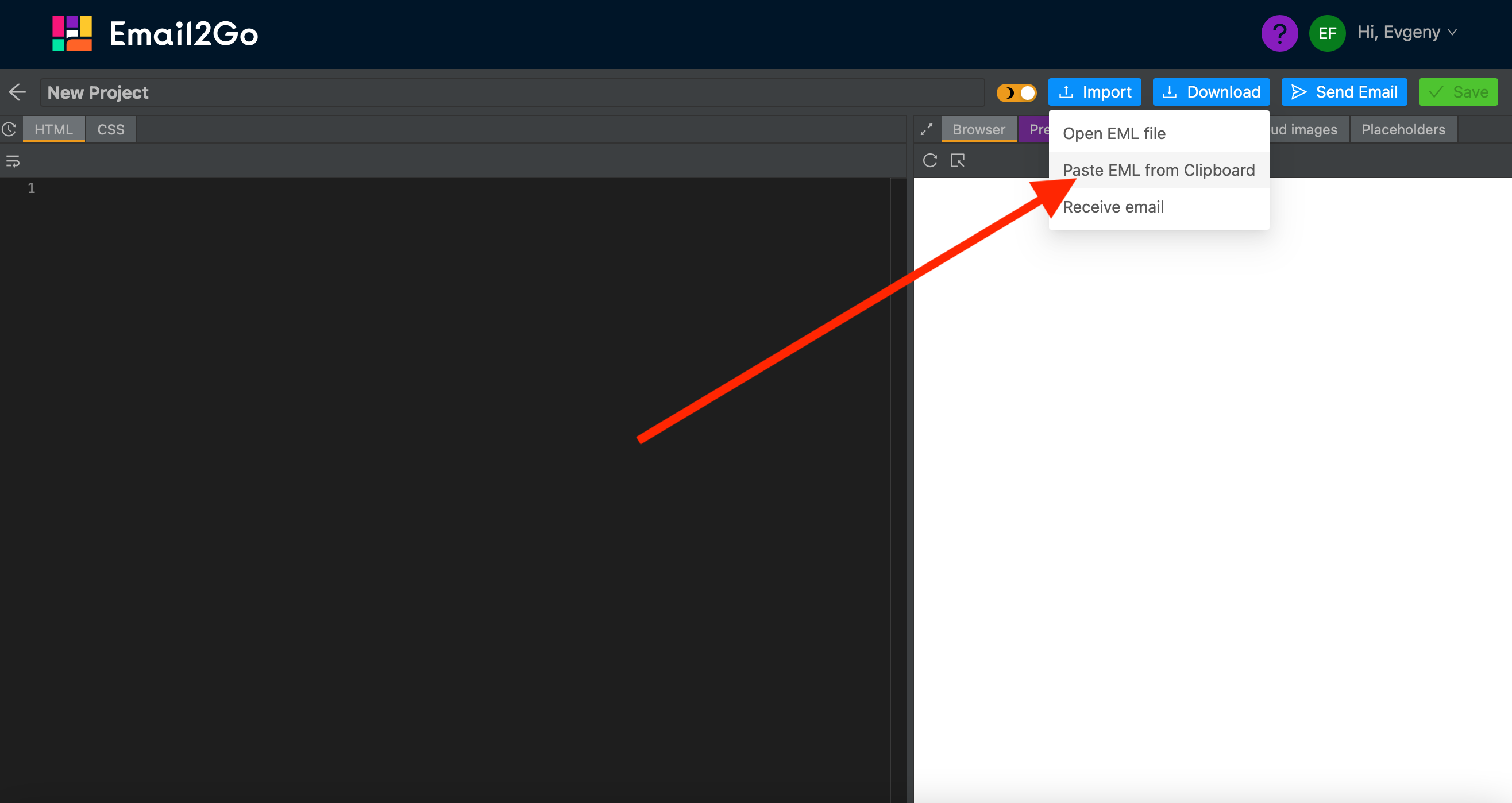 Paste EML from Clipboard to Email2Go Email Preview System
After that, in the new window that opens, you just need to paste the copied EML content and click Import: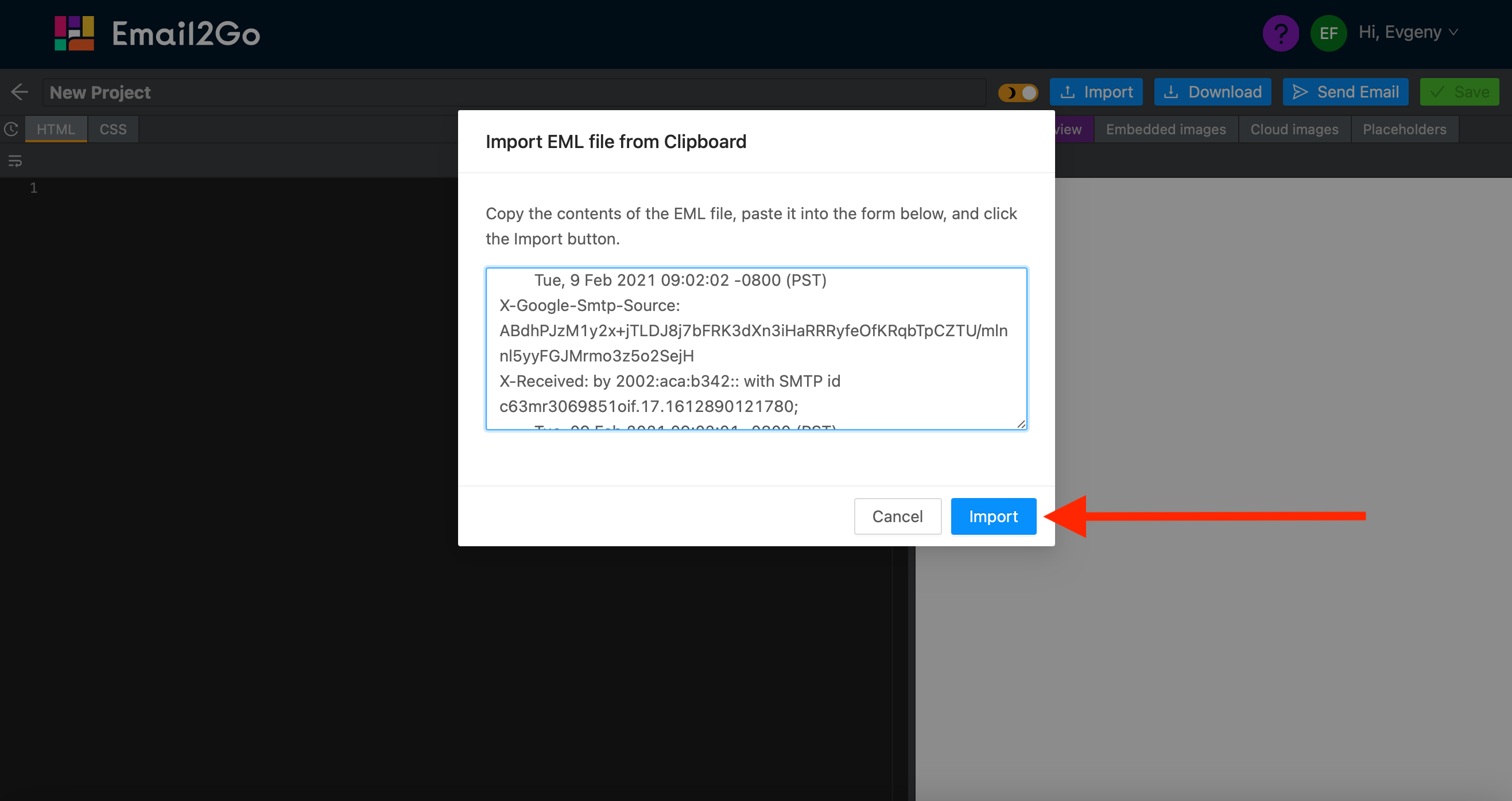 Import EML in Email2Go Email Testing
After that, the email will be uploaded to Email2Go and will be fully ready for testing. With these simple steps, you can preview your email template on a variety of devices and email apps before sending it to customers. Again, this is to make sure that every recipient of your email will see it as you intended.
If you don't know how and where to get the EML content without saving the EML file, don't worry. Just as I mentioned earlier, I'll talk about this in the next article.
Perfect emails are born here
Create your email with our free modern code editor with unique features
and test them on dozens of different devises and mail apps
START NOW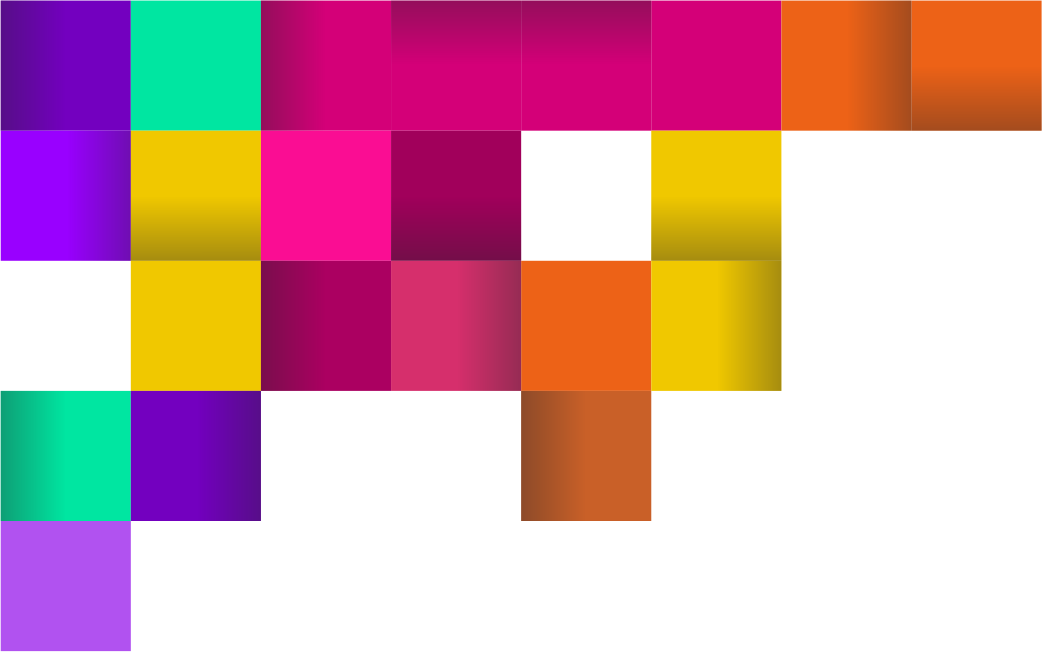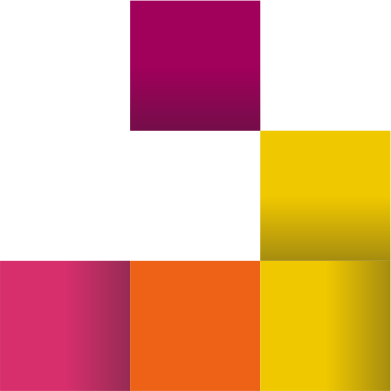 Import by Sending Your Email Directly to Email2Go Email Preview System
The third option to import your email into Email2Go for testing is to send the finished email to our special email address. This address is unique for each import procedure, so no need to worry about your template being accessible to other users of our system.
This option is especially useful for those who use third-party systems for creating templates, such as MailChimp or SendGrid. In each of these services, you can send a ready-made email template to your email address. To test the email created in these systems, you can send it directly to Email2Go and preview it on dozens of devices and apps.
To do this, create a new project and click Import→Receive email: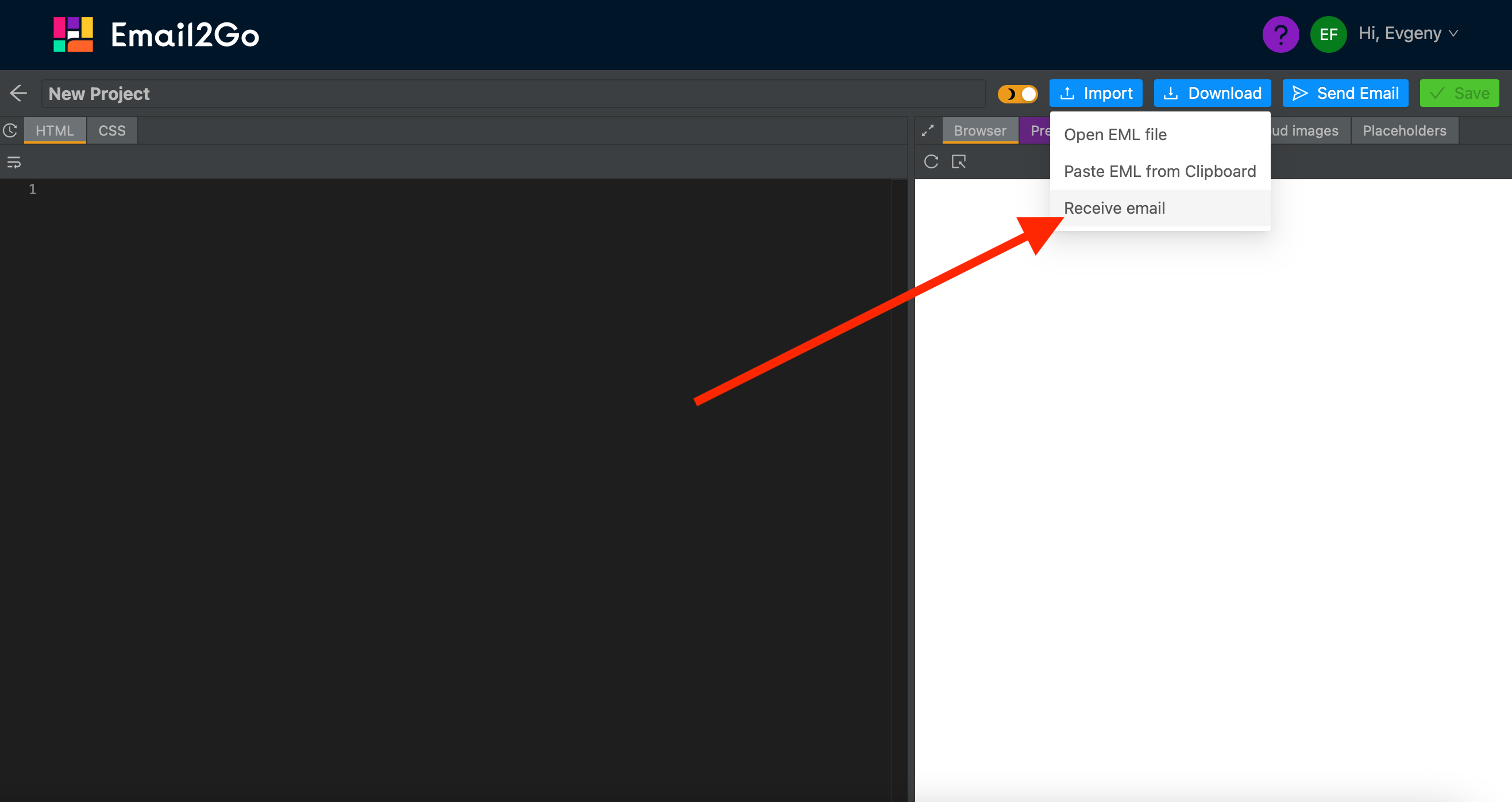 Sending Ready-made Email for Testing to Email2Go
In a new window, a unique email address will appear, to which you can send your template for testing directly to Email2Go: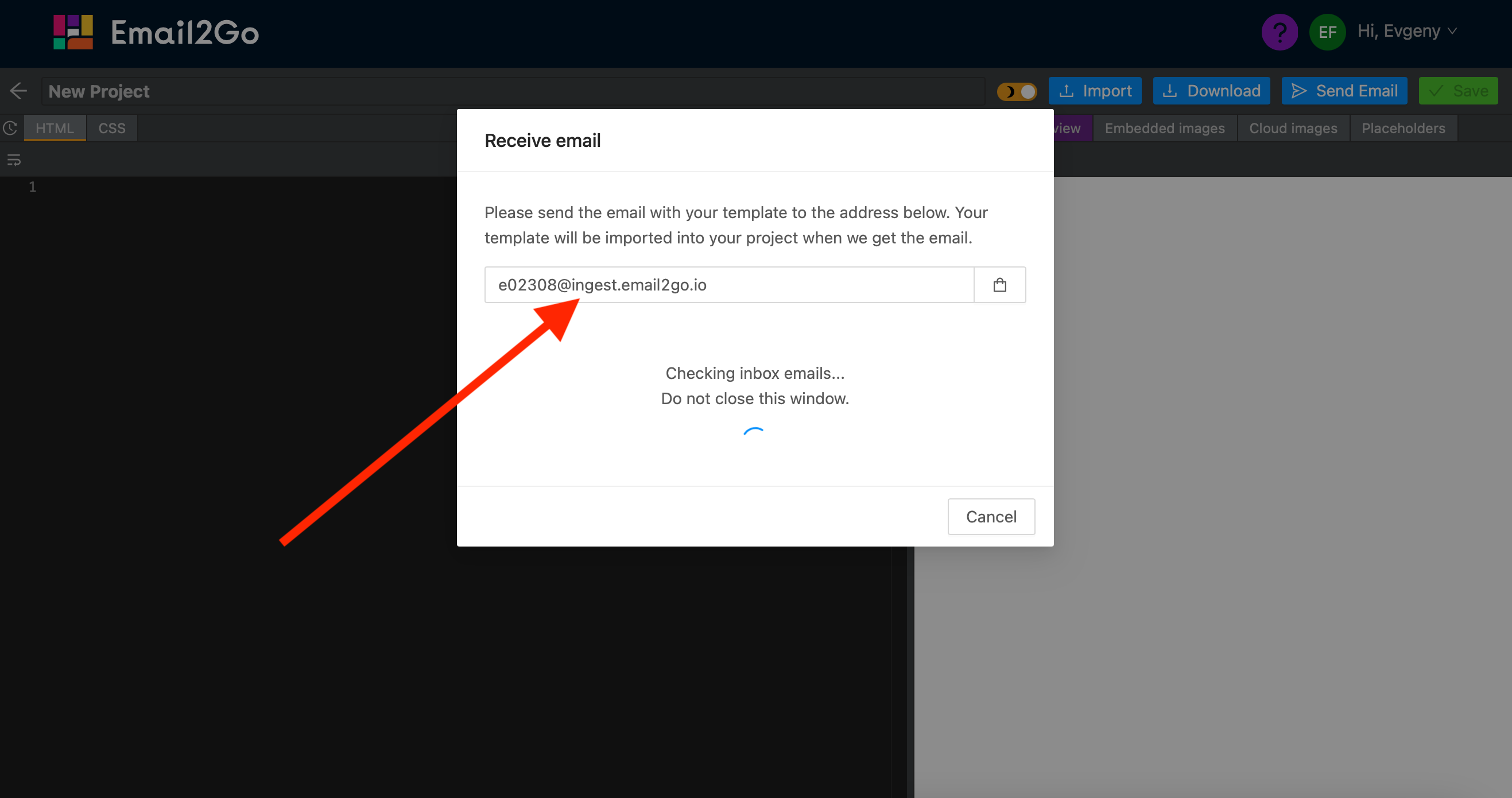 Sending Ready-made Email for Testing to Email2Go Email Preview System
As soon as your email is sent, our service will detect its receipt and import it into Email2Go where you can test it by clicking on the Preview tab.
We are constantly working on making Email2Go as user-friendly as possible for everyone. I hope that innovations such as importing ready-made emails for further testing will be useful to you and will simplify your work in our system.